Only the

Best Attachments

for Your Buck!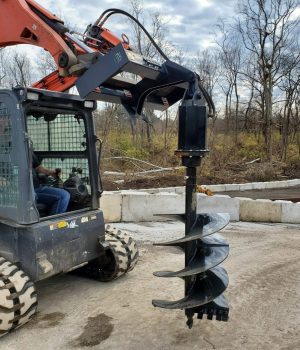 At TN Skid Steer Supply, our mission is simple. We want to offer our customers the best bang for their buck skid steer attachments on the market today at the most competitive price available.
We don't sell brand names; we sell quality and value. Almost every one of the manufacturers we carry started as a small mom-and-pop fabrication shop located all over the U.S.A. They grew to what they are today for one simple reason: they made quality skid steer attachments at an affordable price.
If you need a skid steer attachment, you've come to the right place. We offer a wide variety of long-lasting, top-quality attachments to suit all your needs.
Our line of heavy-duty skid steer brush cutters makes light work of brush and saplings. The high-tempered steel blades were made to stand up to regular use, season after season.
With precision mounting plates and a solid, durable build, our pallet fork attachments are perfect for any material moving job.
Our range of skid steer snow removal attachments make pushing, plowing, and removing snow a walk in the park.
Our premium-engineered skid steer grapples can handle all kinds of objects and materials. When you need to grab and move rocks, brush, logs, wood, or any type of debris, we've got your back.
Removing trees and stumps is a headache without proper skid steer attachment. Check out our selection of tree pullers, stump buckets, stump grinders, limb saws and various other attachments that will help you deal with tree work.
Our skid steer augers were built to drill holes in any ground condition with minimal effort. With several different models in stock we can set you up with the perfect auger and bits to fit your machine and your needs. We carry every size auger bit from 4″ – 48″ in stock and our auger drives work with a wide variety of machines, not just skid steers. 
But Wait ...
There's More!
We have many more products including Buckets, Post Hole Diggers, Land Levelers, Dozer Blades and Grader Blades, Power Rakes, Soil Conditioners and Rock Hounds, Mini Skid Steer Attachments and John Deere Mount Attachments.
We are open from Monday to Friday, 9:00 am to 5:00 pm.
We also offer evening and weekend appointments to accommodate your schedule.
This is a great pace to buy Skid Steer attachments. Great people and great products, I definitely give them five stars!
John F. Smith
We got the tree puller, 72 inch brush cutter, and stump grinder. All of the attachments are extremely strong and very nice. Very pleased with our experience purchasing from them. Great products. Thanks for the attachments.
Caleb Egli